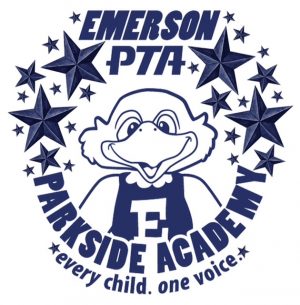 Welcome to the 2016 – 2017 Emerson Parkside Academy school year!
The Emerson PTA is made up of an extraordinary group of dedicated volunteers who are committed to the well-being of all our EPA children and families. We are an essential element of our wonderful school. Our goal is to keep parents and guardians informed on issues and programs concerning the education, health, and welfare of children and families at Emerson Parkside Academy.
Emerson PTA Membership
We are a membership organization promoting the welfare of all children, including yours. Membership is open to any parent, grandparent, guardian, teacher, or community supporter. No one is denied membership for lack of funds! Check out our Membership Page for more information regarding the importance of becoming a member and the special perks you will receive.
Association Meetings
Meetings may include presentations on parent/child education, updates from Principal Vitetta, discussions of issues at Emerson or the PTA budget and information regarding upcoming programs, activities and events. Childcare is always provided. You do NOT need to be a member to attend the meetings or ANY of our other events. Association Meetings will be held on the 3rd Tuesday of September, November, February, March and May. All meetings are held in the EPA auditorium at 6:30pm.
Fundraising
The Emerson PTA supports vital programs and activities that enrich the experiences of all of our children. We achieve this goal by hosting fun, community events throughout the year. We provide field trips and transportation and an art history program for all Emerson Students.
Community Events
Emerson PTA organizes special assemblies, enrichment activities for kids and parents, and social and cultural events to allow our families to spend time together and enjoy our strong community.
We Provide Support For:
Back to School Packets
Communication Folders
Kinder Tea
Welcome Back Brunch & Staff Appreciation Week
Back to School Bash
Awareness & Prevention Days & Weeks
Monthly Reading Logs
Assemblies
Trunk or Treat
Emerson Gives Back Drive
Recycling & School Beautification
Book Exchange
The Great Artist Art Program
After School Programs
Reflections Art Program
5th Grade Promotion
Library, PE, Kids Club, Recess & Music Supplies
…………..And So Much More!
Funding Provided By:
PTA Membership
Monthly Family Nights
Scholastic Book Fair
Emerson Olympics
E-Waste/Recycling Drive
Sweetheart Dance & Silent Auction
Carnival
Please click on the links below for additional information!
Emerson PTA Facebook Page
Emerson PTA Instagram Page
EPA School Website
Long Beach Council PTA
Long Beach 33rd District PTA
California State PTA