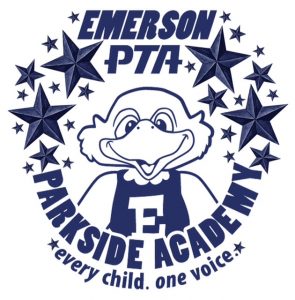 Greetings Emerson Parkside Academy Parents, Families, & Community,
I would like to welcome back all our returning families and give a great big WELCOME to our new incoming families. Emerson Parkside Academy is a great place to be!
The EPA-PTA's vision is to extend opportunities of learning and enrichment to every student. It is our goal to promote educational success and support our students, our staff and our community. We also like to have fun!
As the summer comes to close the EPA-PTA has an exciting lineup of fun fall activities and events. On Friday, September 9th we will be having our annual "Back to School Bash," with outdoor movie, popcorn, a dessert food truck and other fun activities. Bring your picnic dinner and lawn chairs as we celebrate the start of a new year.
At Back to School Night, Tuesday, September 20th; we will be showing a short presentation about our year's plans, selling spirit wear, and introducing the board at 5:00pm in the auditorium. Our first official EPA-PTA association meeting will be held, Tuesday, September 27th at 6:30pm in the Emerson Auditorium. The remainder of the EPA-PTA's association meetings will be help on the 3rd Tuesday of the month in November, February, March and May.
Please consider becoming an EPA-PTA member. Your $10.00 membership dues, additional donations and fundraising participation are what enable us to provide events and activities such as Red Ribbon Week, Book Fairs, Trunk or Treat, Sweetheart Dance, an Art Program, field trip admission & transportation, and so much more!
Each year the EPA-PTA takes on many activities. Iit is only with our great community of volunteers that we are able to succeed in pulling off these major events. Please consider volunteering when opportunities arise, so together we can achieve our goals.
On behalf of the Emerson Parkside Academy PTA, thank you very much for your support…we couldn't do it without you! We are looking forward to a great year! Together we shine!
Sharyl Golden
President
EPA-PTA 2016-2017